Sonntags...Reggae...
mit More.Love.Sound & Soundfyah Intl.
Live: "Monoglot"
Indie-Alternative-JAZZ-Punk aus Basel/CH
Get Rhythm #19
50's Rock'n'Roll & Rockabilly by Midnight Monsters Hop
Vernissage ab 21h in der Galerie
Musik: Helmut Pötsch & Stephanie Brill
Live: "The Devil and The Almighty Blues"
Blues Rock from Oslo (NO) - slow, heavy, melodic and raw - support-DJs Toni & Luca
6. DADAMENTA
Kunstaktion im Rahmen der DADA-DEKADE 2012-2022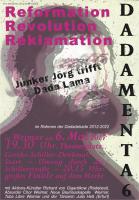 Live: "Yellow Fin"
Jazz aus Basel/CH
Kre-Art-You 2007
---
Das erste Kre-Art-You fand 2007 statt. An der Gestaltung eines abwechslungsreichen und anspruchsvollen Programms auf dem Marktplatz nahmen viele Vereine, kulturelle Einrichtungen, Künstler und Musiker teil.