Sonntags...Reggae...
mit More.Love.Sound & Soundfyah Intl.
Live: "Monoglot"
Indie-Alternative-JAZZ-Punk aus Basel/CH
Get Rhythm #19
50's Rock'n'Roll & Rockabilly by Midnight Monsters Hop
Vernissage ab 21h in der Galerie
Musik: Helmut Pötsch & Stephanie Brill
Live: "The Devil and The Almighty Blues"
Blues Rock from Oslo (NO) - slow, heavy, melodic and raw - support-DJs Toni & Luca
6. DADAMENTA
Kunstaktion im Rahmen der DADA-DEKADE 2012-2022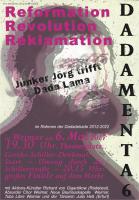 Live: "Yellow Fin"
Jazz aus Basel/CH
Kontakt
---
Anschrift:
C.Keller & Galerie Markt 21 e.V.
Markt 21
99423 Weimar
Ansprechpartner
---
GF/Org.: Wolfgang Szallies
Jugend/Kunst: Sebastian, Almi
Bands: Atze (mail)
Technik: Emkey
DJs: Mi, Do, Fr, Sa -> Ansgar (mail) / Di -> Hanny (mail)
Ausländer-Beauftragter: Jens
Anfragen bitte nur per e-mail, kein Telefon, kein facebook!!
questions only per e-mail, please don't call per phone
zentrale e-mail (Büro): mail
Vereinsvorstand
---
Vereinsvorstand: Almut Nowack
Vereinsvorstand: Wolfgang Szallies
Vereinsvorstand: Marco Kenzler